More often than not, contractors carry out renovation and construction projects with a razor-sharp focus on getting the specifications done according the client's requirements and the final approved blueprint. Taking top priority is the need to create the desired space within the timeline agreed upon and to stay within the budget.
What is critical – and critical is an understatement here – is considering how the bulky building materials can be transported to the site, how your waste is going to be hauled and where it is going to be dumped. Lai Renovation & Construction offers haulage services to ensure that you only have to think about polishing and adding finishing touches to your renovation or construction project, instead of thinking about waste haulage and disposal. We haul away the clutter so you can focus on your masterpiece.
Lai Renovation & Construction's haulage services works both ways. First, we deliver the building materials necessary for your renovation and construction project with minimum fuss. And second, we haul any bulky waste, debris or rubble away from the site, post-renovation or post-construction.
Unscrupulous contractors and interior design companies disappointingly forego social responsibility and irresponsibly dispose of construction debris down the refuse chutes or the sewers. This imprudence will come back to haunt you eventually as HDB will charge you for the repair and cleaning of damage refuse chutes of sewage.
Indeed, haulage and debris removal after any hacking works or dismantling services can be troublesome and costly. Justifiably so as hauling rubbish and renting lorries large enough to transport your solid waste is not easy. In fact, the cost can go as high as thousands of dollars, depending on the size of the renovation project and the extent of the works.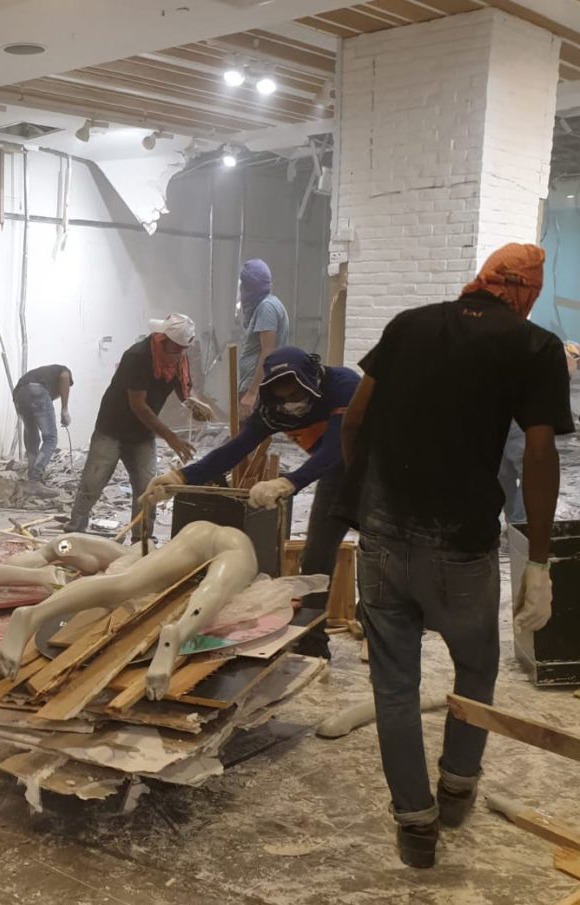 All renovation, reinstatement, hacking or demolition projects have one common denominator – that's waste removal and disposal. Whether you are well-versed in the construction, renovation and reinstatement industry, disposal of furniture, equipment and hacked timbre, among others, is still something you leave to the experts.
After each renovation project, debris and unused wood are often left all over the surrounding premises. In addition, subsequent to any reinstatement work, you are required to hand over the leased unit back to the landlord in its original condition. Reinstatement and restoration require that you remove furniture and fixtures that you may have added on during the period which you leased the space. That is when professionals such as Lai Renovation & Construction come in. Lai Renovation & Construction offers full-service waste removal, taking away household items, furniture, fixtures and timbre efficiently and systematically.
Our removal and disposal service cover collecting and disposing of bulky, recyclable waste – whether commercial or residential. All these wastes are disposed at Government-designated dumping sites. In addition, we help touch up, patch up holes, and repaint walls and ceilings after dismantling and disposal of all your built-in furniture and fixture. We can manage all repainting and repair works within the timeframe you require. Finally, our disposal service is highly competitive and guaranteed not to break your pocketbooks.
One of most common services you will find yourself needing , when there is handover of units, is a repainting of new set of coat.
In Singapore, Lai Renovation is a prefered partners for many home and office restoration project, not just because clients are able to find the best affordable prices with us and also mainly because clients is able to find a complete one stop solution through us.
Our all inclusive reinstatement solution includes painting services, even on the high ceiling and walls that usually requires scaffolding or scissor lift to reach.
If you need to reinstate, repair and repaint the empty lease space to original condition prior to handing over to the landlord or facility management. We can help you that.
Masonry works is commonly referred to as tiling works or brick works, and is a common work for walls within any renovation works. The process of masonry work involves overlaying of ceramic laying of ceramic, marble or other preferred types of tiles onto the wall and floor to provide decorative finishes.
At Lai Renovation, beside providing reinstatement support, we also extend our excellent tiling works capabilities to office and homes owners. Some of our most popular tiling services is as follow:
Laying of homogenous/ marble/ granite tiles on floors and walls.
Overlaying of tiles on existing tiled or bare surfaces, inclusive of surface treatment beforehand.
Erecting brick or hollow block walls.
Plastering of walls and floors.
All forms of concrete related works.
Not many of you are familiar with cement screed or the act of cement screeding. Cement screeding is the application of a thin layer of cement screed to the floor to ensure that the surface is smooth and free of bumps. That is why this is also referred to as surface preparation as it smoothens uneven ground and covers up damaged flooring. The thin layer, or the cement screed, is often a mixture of cement, sand and fine aggregates that, when applied parsimoniously, create a smoothened surface. The smoothened surface now makes the application of floor finishes such as tiles, vinyl or wood laminates easier and more efficient.
Cement screed is applied in any type of establishment and in any room, yes, even the toilet. At some point, using cement screed as floor finish has become a fad as it creates a raw, earthy, rustic atmosphere. However, if not applied properly, expect hairline cracks to surface over time.
Lai Renovation & Construction offers cement screeding services, on top of our floor hacking, renovation and construction services. We can apply cement screed to cover up damaged flooring or even out your floor surface. Our cement screed is made of the highest quality cement and sand mixture and can be used for HDBs, condos, landed properties, commercial establishments, office spaces or even public areas. Lai Renovation & Construction has the expertise and experience in cement screeding to ensure that the project is completed efficiently and competently.
In highly advanced, developed economies such as Singapore, the metal welding industry is huge, to say the least. Metal welding is required for the manufacturing and repair of automobiles, small appliances, solar panels, building structures and more. If you look outside your window, you will see sheltered walkways and railings, which, as you may have guessed, requires metal welding. The art and science of metal welding is manifested everywhere you look. However, the durability and artistry are dependent on the service provider employed for the task.
Lai Renovation & Construction provides impeccable, high-quality workmanship using top-of-the line materials. We offer the paramount quality of metal fabrication and metal welding services possible for both our commercial and residential clients — fearlessly taking on your customization requests. Our sheet metal fabrication uses tried and tested methods including laser cutting, metal bending, metal rolling, metal shearing and complete sheet metal fabrication.
The metal fabrication process takes a lot of careful planning when it comes to the types of materials to use, layout, storage area, raw material equipment and processes to ensure that you get the best quality according to your customized request.